PRODUCT INFORMATION
PRODUCT SPECIFICATION
WARRANTY
CUSTOMER REVIEWS
PRODUCT INFORMATION
Exclusive VoroMotors Dual Motor Seated Electric Scooter 
The Emove RoadRunner Pro is a top-of-the-line seated electric scooter that offers a comfortable and thrilling ride. With powerful 2000W Dual Hub motors (4000W Peak Output) and a large 60v 30ah battery, it can easily reach insane speeds and travel up to 50 miles on a single charge. The comfortable cushioned seat, adjustable handlebars, and front and rear suspension provide a smooth and comfortable ride even on rough terrain. Other features include an LED display with a speedometer and battery indicator, dual hydraulic brakes, and high-quality tubeless tires for superior grip and control.

PRODUCT SPECIFICATION
Top Speed: 50 mph
Tire Type: 14" x 2.75" Tubeless
Brake Lights: Yes
Range: 50 Miles
Charge Time: 10.4 hours
Brakes: Hydraulic 2-Piston Zoom Disc
Signal Lights: Yes
Hill Climb Angle: 30 Degrees
Battery: 60V 30Ah LG M50LT 21700 Cells 1800 Wh Capacity
Water Rating: Light Rain
Max Load*: 330 lbs
Motor: 2000W Dual Hub (2) 4000W Peak Output
Controller: 45A Sine Wave
Headlights: Yes
Item Weight: 114.4 lbs
Throttle: Twist
Display: 3.5" VoroMotors TFT
Deck Lights: No
Dimensions: 56.7" x 30.7" x 43.3"
WARRANTY
All of our Products come with a Full UK Warranty, see our Warranty Section for full details.
On Display in Full Color
The TFT LCD on the EMOVE RoadRunner Pro is also a VoroMotors invention. Our engineering team designed the VoroMotors full-color 3.5" scooter display to give the Pro a larger, more sophisticated interface that's easy to use. Instead of having to pair your phone to your scooter with a Bluetooth app, you can toggle through preferences and adjust settings directly with the button console and TFT display (not touchscreen). You can read battery status, see motor temperature, speedometer, mode and clock at once, and the colored rings around your speed remind you of which mode you're in. How? On the 3.5" TFT display, the rings around your speed correspond with the riding mode you're in, and how fast you're driving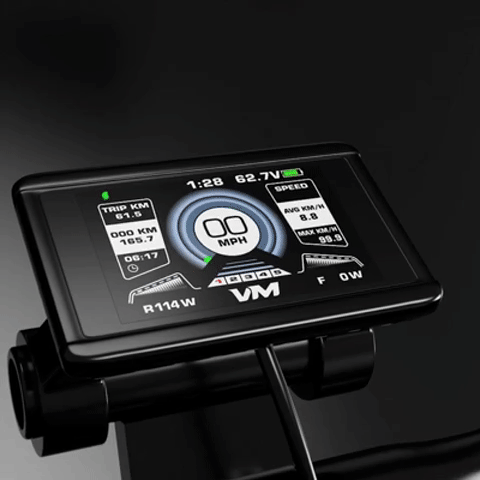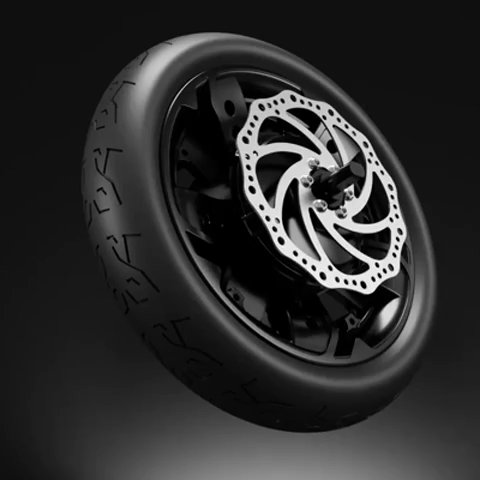 Reinventing the Wheel
Getting a flat sucks. We custom designed these new split rim wheels with tubeless tires, so it's easier to repair a flat – if you ever have to. The 14" x 2.75" tubeless pneumatic tires have a flatter, wider profile that works well for street riding, and doesn't get squirrely at high speeds. With tubeless tires, you never have to carry or replace inner tubes again – since the tire seals directly to the rim. If you get a flat, the split rim design makes it easier to swap tires. Simply disconnect the plug-and-play motor, remove six screws from the hub, swap in a new tire, re-inflate, and you are back on the road. Literally re-inventing the wheel was an important goal at VoroMotors, as everyday transportation should be easy to maintain and repair.
Supercharged and Removable
The removable battery is a high quality, high capacity LG 60V 30 Ah (M50LT) that's designed to perform consistently and safely, charge after charge. Composed of pure nickel with copper-infused strips, the electrical current flows more efficiently and with lower heat dissipation. This LG battery is also used in other high-performance electric scooters because it has a high maximum discharge of 90A, and battery management system (BMS) capable of up to 100A, and is controlled by dual 45A sine wave controllers. The discharge wires are 8 AWG and charging wires are 16 AWG (aka super thick) which don't get as hot as thinner gauge wires, so you can leave the EMOVE RoadRunner Pro on the charger overnight without damaging the battery or your other belongings.