EMOVE Cruiser Maintenance Guide
Posted by PETER HARVEY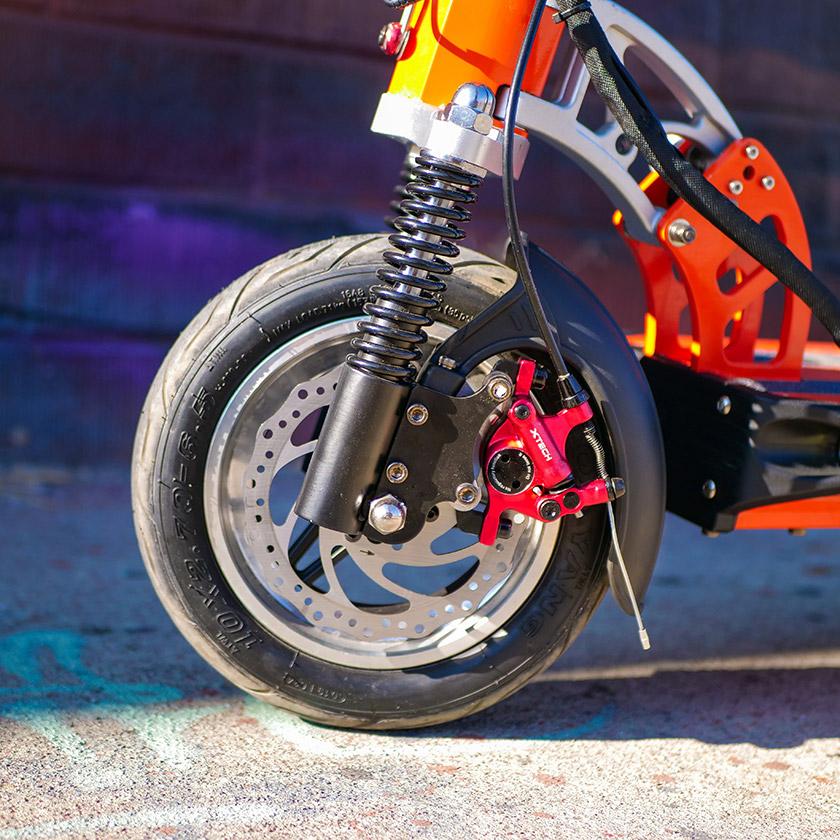 Today we're going over how to maintain and keep your EMOVE cruiser nice and tight. And since you're taking these longer rides because that's what the EMOVE Cruiser is really good at, there will be a lot of shifting and bumping, some stuff going to get knocked loose every now and again. So, you got to go in and make sure that everything is packed and ready to go.
Here are some of the more regular things that need to be maintained on the EMOVE cruiser. We will go from the front of the scooter to the back - handlebars, folding mechanism, little accessories here and there and then wrap it up by going over how to tune the front and rear brakes.
From the top right of the scooter we're going to start talking about handlebars. First off, you're going to notice a little bit of play in the handlebars themselves, which could get really obnoxious when you're going on bumps and stuff. So, in order to fix this, we're going to go ahead and grab this centre, push it and pull it down. You're going to see this tiny screw on the inside that you're going to need an Allen wrench, at a size 2.5 to fit into that.
First off, you're actually not going to want to tighten that screw, you're going to want to loosen it, because the goal is that this nut here is filling the space on top. If you tighten it you're going to end up making more space in this socket, which is going to give it more play, so give it a little loosen to fill up the gap.
Now you may not get it on your first try, so it may take a couple times to try to loosen it, close it and see if it plays. Now do make sure that you're extra careful with this metal because it can get strip really easily, especially if you're trying to tighten it and crank it down.
Now, you might notice your handlebars might hit a certain point where they're out of order, you can see down there, my wheels facing forwards but my handlebars are not quite straight. 
So to start this off, if you look down the neck of your scooter you're gonna see this little latch. If you reach down and pull that open, you're gonna notice that now you can raise and lower the handlebars for your scooter. This is how to adjust your handlebars at any time, just lock it to keep it still.
As for straightening it out, what you want to do is to squeeze the tires between your feet.
And then unlock the stem of the handlebars, you should be able to twist it straight. And then once it's straight, just go ahead and lock it again.
And if you look down here you're gonna see this little black nut on the side. If you click that you can kind of tighten that lock. And once it's tightened. You should be able to lock it and it won't wiggle anymore. And with that, you should be able to contain the bars kind of nice height, and a nice straightness.
Next is our lamp and horn on the front. It can be a bit wobbly but it's a super easy fix, tighten the bolt with an eight millimetre and you'll be fine and ready to go in no time.
Let's talk about what to do about your wobbly stem. This is probably the most annoying issue to have, but luckily it's a pretty easy fix. Just go down to the folding mechanism right at the hinge, and you're going to notice these six little screws. Just tighten these with an Allen wrench.
Then you're going to want to tighten this larger bolt here at the bottom. An allen wrench on one side and a 10 millimetre on the other, you should be able to just crank it down. Don't crank these all down too hard, because at the end of the day, this is how your scooter folds, but we also don't want these things to be wobbly while you are riding it. If that did not solve it, you're going to want to come down under the stem itself.
And if you look underneath, you're going to see a couple screws underneath the stem above the fender. Those might need tightening. Now unfortunately, we don't have an Allen wrench to tighten that curve to really get under there without removing the whole fender. So if you need to fix that you might need to buy your own allen wrench that's tight enough to get under there, or just remove the fender so you can dig in. It can be a bit of a project but it isn't a too difficult fix.
One more thing before we get to the brakes, is the kickstand down underneath. Don't tighten this too hard because it is made of plastic and you can snap it, but we do want to make sure that that's tightened as well.
If you hear a scratchy front brake sound, what you're gonna want to do first is loosen the bottom nut on the brake unit, then you're gonna want to loosen the top nut on the brake unit.
Now once it's up loosen you can kind of wiggle the unit itself, kind of left and right. You want to make sure that this is centered, not too much grinding on either side of the brake disc on the inner part of the wheel. I'm going to line this up so that the two brake pads or an even distance from the brake disc. Then I'm going to go ahead and take the bottom and the top screws again.
If you noticed a new kind of sound, like the brake unit itself is grinding on the inside of the wheel against the metal, you are gonna have to try to tune it again. You're gonna notice that there is still a slight grind but that's just because it's a new brake pad, and that's going to go away within a couple of rides.
Now the rear wheel is going to be handled the exact same way. You're going to listen to the bottom. You're going to listen to the top, you're going to adjust the brake and gas. And then you're going to tighten them.
I do think it's worth noting that the back wheel isn't going to spin as well as the front wheel because there is a motor back here. So it is going to take a little bit more of a trained ear to notice what is and isn't grinding because you're not going to be able to make it scream like you could on the front.
Now another thing that you may start to notice feels wrong is the brake itself. If you squeeze it, it won't feel like it's giving enough grip to the tires. So if you need to tighten your brakes themselves, you're going to want to do is loosen this top bolt here.
Loosen the part that actually kind of moves with the brake itself, and you're going to want to grab the brake line, and just kind of pull it a little bit tighter, you might even want to hold it, pitch the mechanism a little bit. And then tighten that down. And next, when you go to squeeze your brakes, it should feel a lot tighter.
A lot of these repairs and tunings are going to take a little bit of trial and error to make sure you get it to feel right. This is your ride so you need to make sure it feels good.
Now another way you can kind of adjust this, the brake sensitivity is with this little knob here.
Spin it up and down, it's gonna kind of make the brakes feel a little looser and a little tighter, just a minor adjustment.
Another quick way would be to loosen up this small little nut here.
You can start to twist this larger screw here at the top of the brakes. If you tighten that in and then go ahead and tighten the little bowl again.
The further into the break unit that it is, the less touchy the breaks are gonna feel, and the further out this larger nut is, the tighter the breaks are gonna feel. I like having a little bit more of a tighter brake so we're gonna change that out a little bit and then tighten that down.

And that should be everything that you need to maintain from general wear and tear of the scooter. These are vehicles and they need to be taken care of. If you notice any screws or parts that might have been broken or missing, go ahead shoot us an email - support@beyondpev.com so that we can start looking into getting those replaced for you. We hope this video helps and we hope that you're able to keep enjoying the ride. Have a good one!
Collection 2019
Sale 70% Off
Third slide