PRODUCT INFORMATION
PRODUCT SPECIFICATION
WARRANTY
CUSTOMER REVIEWS
PRODUCT INFORMATION
Ex-Display EMove Touring Electric Scooter
Ex-Display (0 Miles - As New)
PUNCH ABOVE ITS CLASS
The only electric scooter you will ever need to travel around. The EMOVE Touring is arguably the best scooter in its class, and that is built for comfort and speed.
Note
 that the Above Video was not filmed in the UK and 
does not represent the legal use of e-scooters in the UK. Currently, In the UK Electric Scooters are not to be used on public roads, Cycle lanes, or footpaths. Only on Private land with the Owners permission.
WITH A PEAK POWER OUTPUT OF 750W:
20-degree hill-climbing ability
Acceleration (0 to 15mph) in 4.5 seconds
Torque to tackle steep hills while maintaining speed
Loaded with features of larger and more expensive models, the Touring is also built with portability and last-mile travel in mind.
Triple Suspension System
The Touring has the most comfortable suspension in this price class.
Front stem suspension
Front dual spring suspension
Rear dual suspension
LG BATTERY
Packed with a 48V 13AH LG battery. The high-voltage battery gives you peace of mind that your scooter is powered by quality. Backed up by a reputable battery manufacturer; with state-of-the-art ISO Certified manufacturing facilities to ensure all battery packs are consistent and equal.
WHY IS THIS IMPORTANT?
You want to maximise the lifespan of your battery
Having a top-shelf battery gives you some peace of mind that your battery is going to last.
Lights, Camera, Scoot
Switch on all the lights and be seen from miles away.
Get ready when a stranger asks you where can I get that?
Drum + Regenerative Brakes
Drum brake requires minimal maintenance. Unlike mechanical or hydraulic brakes, you never need to do anything to the brakes to tune them every once in a while.
When the Touring is moving, it generates a lot of kinetic energy. All that kinetic energy generated has to go somewhere when the brakes are applied. The regenerative braking converts the kinetic energy when decelerating back into stored energy in the LG battery.
HIGH DECK CLEARANCE
The Touring also has a high elevated ground to deck height which prevents water splashes from puddles, and most importantly, prevents water damage to the deck where the most important components are located.
Built with the riders' comfort in mind, the EMOVE Touring has a wide deck of about 21.8 inches by 7 inches of standing space which gives you more than enough space to keep your feet planted onto the deck. Say goodbye to squeezing onto tiny deck spaces and fear of falling over!
Front and rear spring suspension allow it to respond quickly without bottoming out.
LIGHTWEIGHT AND COMPACT
Weighing at only about 39 lbs (17kg), the Touring is small and convenient to carry around, giving riders the amazing flexibility and portability of carrying it single-handedly up a flight of stairs or anywhere you like! Fold it in under 3 seconds. Push the handlebar forward, press down the lever, done! Easy storage - Keep in trains, buses, or your car.
While the EMOVE Touring is lightweight, it can carry up to a maximum weight of 330 lbs which makes it suitable even for slightly heavier riders or if you have a heavy load to carry around.
WELL BALANCED WITH A WIDE DECK
With most portable electric scooters, you always feel like you are balancing on a skateboard. Not with the EMOVE Touring. After multiple generations of updates, we found the perfect deck size and length that is the most suitable for our riders.
CONTINUOUS IMPROVEMENTS
Seat installation capability? ☑️ 

Longer deck? ☑️ 
Higher deck clearance? ☑️ 
Waterproof cables? ☑️ 
The Touring ticks all the boxes a rider wants in a portable, lightweight electric scooter. 
PRODUCT SPECIFICATION
Top Speed: 25 mph (40.2 km/h)
Tire Type: 8" (F) Pneumatic 8" (R) Solid Rubber
Brake Lights: No
Range: 32 mi (51 km)
Charge Time: 3-4 Hours
Brakes: Rear Drum
Signal Lights: No
Hill Climb Angle: 15 Degrees
Battery: 48V 13Ah LG
Water Rating: IP54
Max Load* 308 lbs (140 kg)
Motor; Rear 500W BLDC
Controller: Square Wave
Headlights: Yes
Item Weight: 39 lbs (17 kg)
Throttle: Finger Throttle
Display: LCD Display
Deck Lights: Yes
Dimensions: Folded: 43" x 8" x 11.5" Unfolded: 39.3" x 22" x 47.2"
WARRANTY
All of our Products come with a Full UK Warranty, see our Warranty Section for full details.
CUSTOMER REVIEWS
Customisable Control Center
The Touring has a very customisable cockpit, with a telescoping stem that can be as low as 28" for riding seated or as high as 40" for taller riders. Equipped with a finger throttle, key-start ignition, voltmeter, horn, bell, light switch, and pull-release folding handlebars, you have a very complete control center. With waterproof plug-and-play cabling, you can replace or upgrade components, like swapping in a twist or thumb throttle.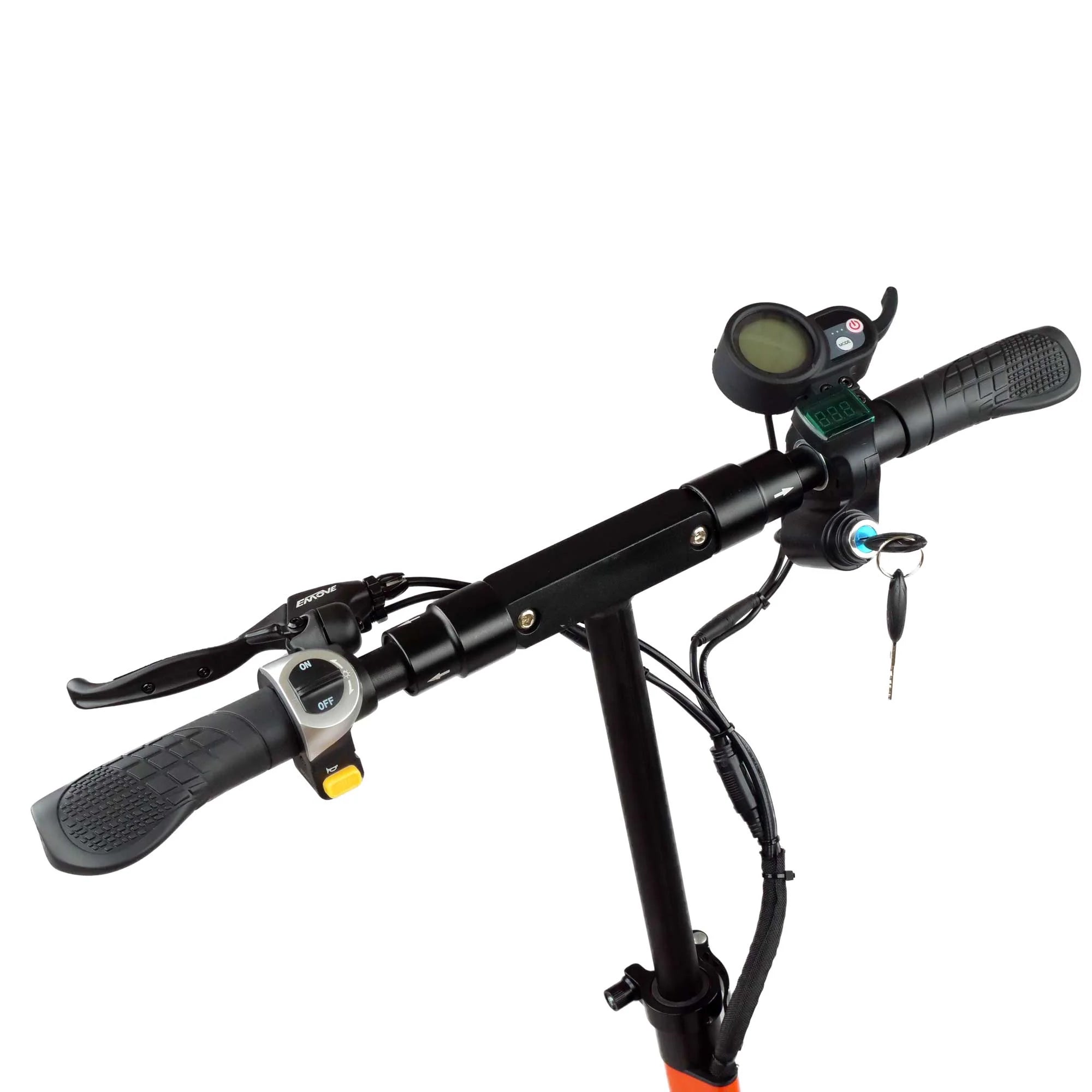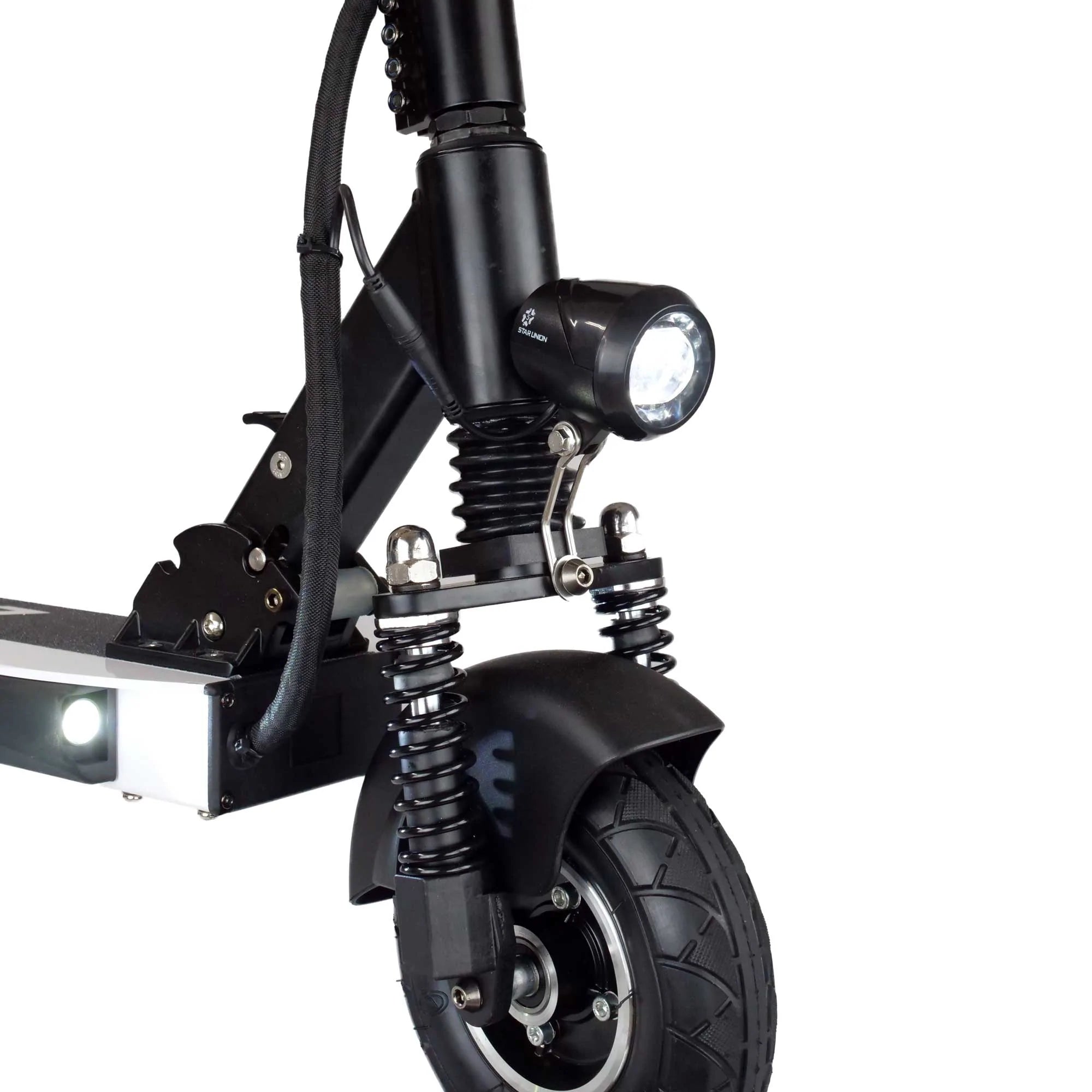 Shining Lights
The EMOVE Touring electric scooter has a low-mounted headlight, front and rear lights in the deck, and a tail light on the rear fender. The deck and tail lights blink when braking.
Decked Out Deck
The spacious 22" long by 7" wide deck has griptape down the center for excellent traction and 5" of deck-to-ground clearance, so you can jump curbs — not hit them.