PRODUCT INFORMATION
PRODUCT SPECIFICATION
WARRANTY
CUSTOMER REVIEWS
PRODUCT INFORMATION
BUZZE F450 Electric Scooter
Powerful and safe ride up to 51 miles with only ONE charge.


The new kid on the block, built for everyday use!
Enter the Buzze F450, an all-new electric scooter built for everyday riding. With an unrivaled range, high level of water resistance to IP65 standard and packed full of safety features for a comfortable ride, the F450 e-scooter will help you see a whole new side of your e-mobility. It's safe, durable, good looking and easy to use.
The F450 isn't just about peak performance, it's about providing a fun, comfortable way to experience the thrill of e-scooters. It's been custom-engineered to provide a smooth ride from the ground up, starting with 10" self-healing tyres, featuring a unique self-healing lining that instantly seals 90% of punctures. This large tyre size and the tyre pattern work together to provide a silky-smooth ride and with great traction on even tough terrain. Then, our unique front- and rear-spring shock absorption system provides you with unprecedented comfort and stability, even over rough surfaces or speed bumps. On any kind of road, in any conditions, you'll glide right over trouble with speed and style.
Whether you're an experienced rider or a beginner, you'll never need to worry about safety with the F450. It features both a traditional disc brake, drum brake, and electronic dual braking system (EBS), providing a shorter braking distance and more stable braking experience, as well as providing regenerative braking for recycling power when you slow down. The EBS system offers the best in class responsiveness, stability, and steerability- resulting in the best in class riding safety.
The size and safety of the battery is second to none. Featuring a Smart Battery Protective System (BPS), that protects you from anything: over-discharge short-circuits, and overcharge, all while providing battery equalization and temperature protection. Stay safe while you cruise in style.
The all-inclusive app enables locking, trip tracking, and real-time diagnostics.
PRODUCT SPECIFICATION
MAX SPEED: 15mph or 21 mph (via App)
RANGE: Up to 51 miles, 80km
WEIGHT: 24 kg
POWER: (PEAK) 500w
MOTOR:(NOMINAL) Rear, 450w
BATTERY: 48v 15.6ah
CHARGING TIME: 6-7 hr
SUSPENSION: Front/Rear
BRAKES: Front/Rear, Electro-magnetic KERS, Disk, Drum
WHEEL SIZE: 10" TIRE10 x 2.7", Tubeless (Self-Healing)
LIGHTS: Front LED, Rear LED, Turn Signals
LOAD: (MAX RIDER WEIGHT) 120kg
FOLDED SIZE: 121 x 52 x 51 cm
WARRANTY
All of our Products come with a Full UK Warranty, see our Warranty Section for full details.
Hi-Def Information perfectly displayed
The large true colour display on the Buzze F450 displays all the information you need, with a multi-level battery and range indicator you can ride anxiety free.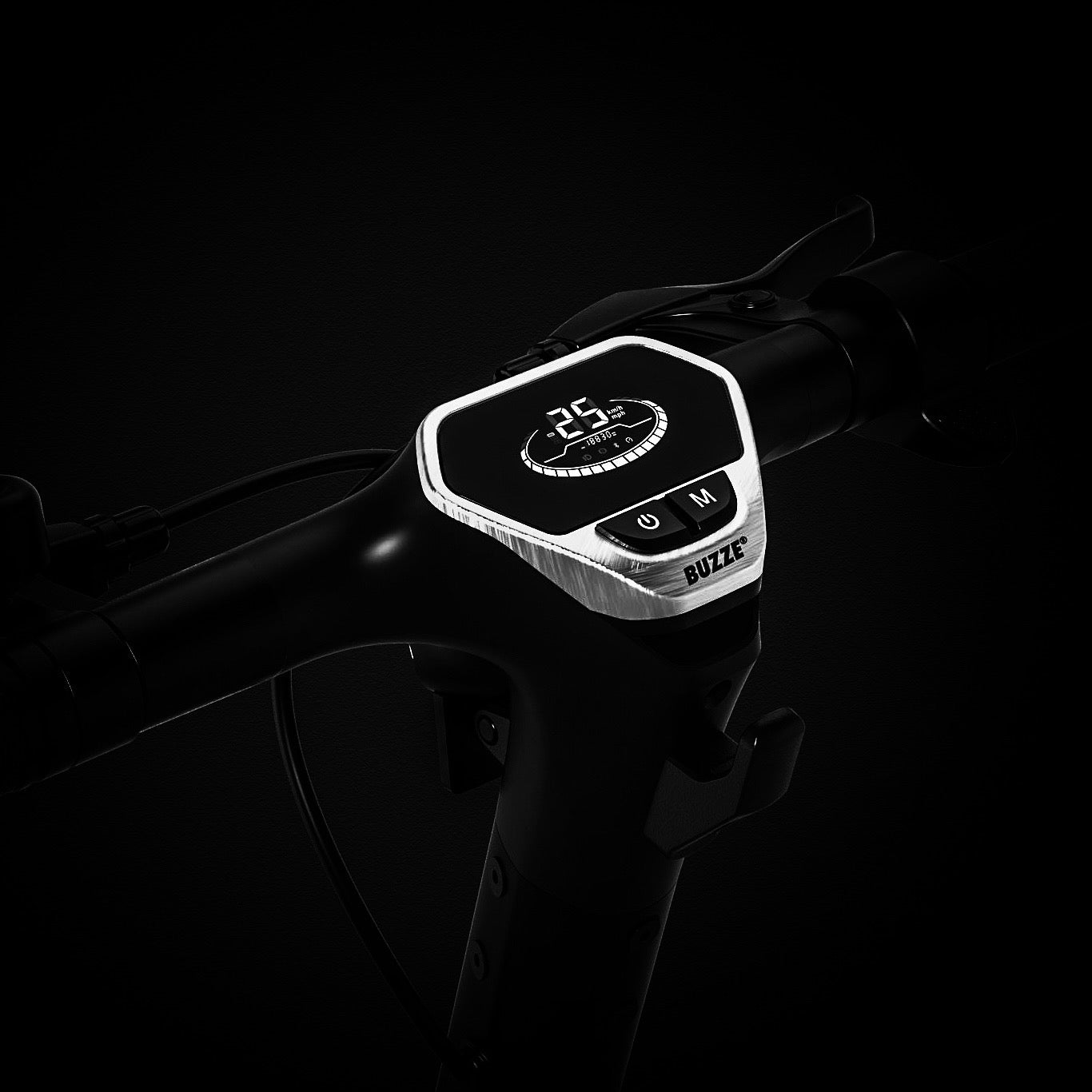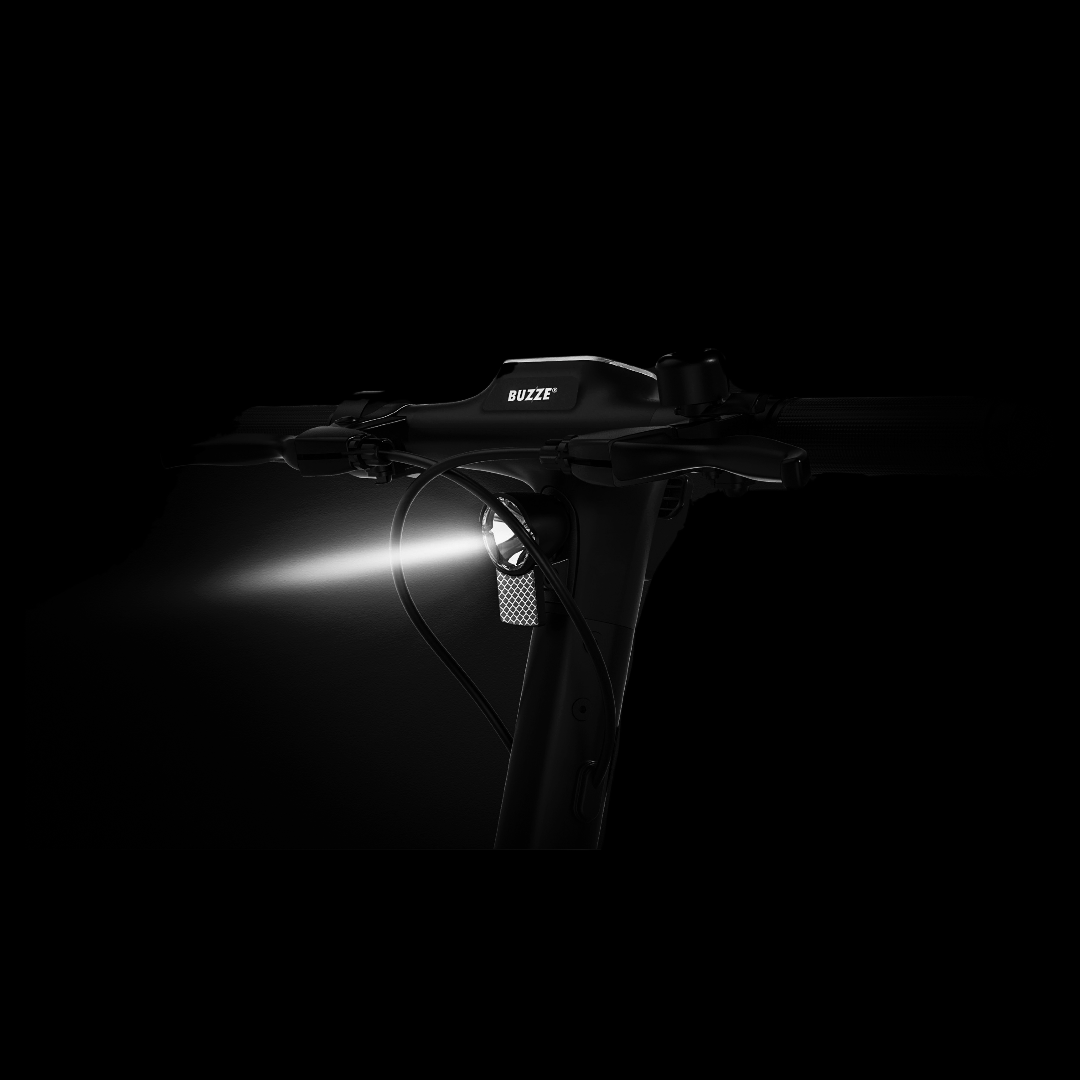 Light up your path
The super-bright headlight on the Buzze F450 is strategically placed to light up the path in front of you.Vertically adjustable to suit the rider with an auto-on setting (within the App) to ensure 100% safety when riding at night.
Powerful 500w Motor equipped with Self-Healing Tyres
The powerful 500w Motor is enough to climb hills and rough terrain, the Self-Healing Tyres seal 90% of punctures immediately without any pressure loss.We're that confident that if you get a flat within the first 3 months of Ownership we will send you a new tyre absolutely FREE!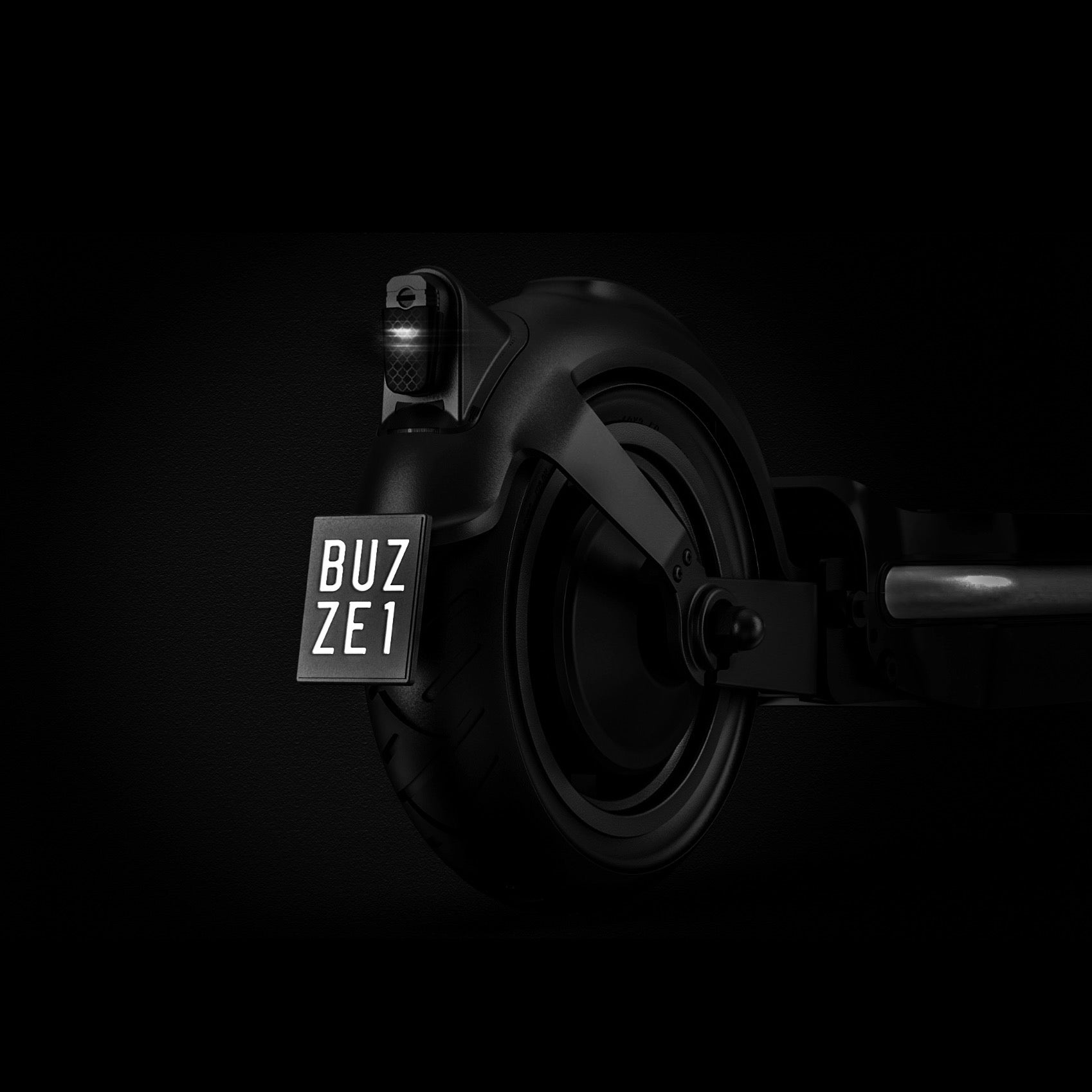 The Buzze is IP65 Rated! Ride with confidence.
Thats right! There's very few E-Scooters that achieve such a high IP Rating. Perfect for UK Weather, brave the wet but be sure to dry the scooter off with a Microfibre Towel at the end of your ride... your scooter still needs some love & pampering!