Pre-Loved Apollo Phantom V2 - Mechanical Brake
A - Like New, Minor Blemishes or Scuffs
B - Excellent Condition, Light wear but no damage
C - Very Good Condition, Normal wear to tyres, wheels and frame
D - Well loved, Moderate to significan wear but no damage
Regular price
£1,749.00
Sale price
£1,449.00
Save £300.00
/
VAT included for UK Customers. EU prices are excluding VAT.
Shipping
calculated at checkout.
WE SHIP WITHIN THE UK & MOST COUNTRIES IN THE EU
APPROVED USED - ALL PRELOVED/USED SCOOTERS COME WITH 6 MONTHS WARRANTY
---
Electric scooters are not to be used on footpaths, cycle lanes or roads in the UK. It is the absolute responsibility of the customer to ensure that you operate your e-scooter within all country and local laws.
---
APOLLO PHANTOM V2 ELECTRIC SCOOTER
EX-DEMO (Grade C) V1 converted to a Version 2 which consists of:
Upgraded Display & Switches
Upgraded Thicker Neck (From V2)
New Throttle (More Responsive)
Upgraded Kick Stand
The scooter has covered approx 20 miles.
Please note that the fenders are missing on this scooter, these will be sent to the buyer free of charge at a later date.
FULL UK Warranty

Vehicle-grade Electric Scooter™
Apollo Phantom features a completely proprietary build made from aerospace-grade aluminum, giving it strength, without the bulk. The stem features double reinforcements for improved stability, while the handlebar is made of a single piece of metal. These seemingly small changes in design, result in dramatic leaps quality-wise. Long gone are the days of cutting corners in scooter design, welcome to the era of vehicle-grade electric scooters.
Designed For Riders By Riders
The secret sauce is not in the features or internal safety testing processes. Nor is it Apollo's industrial design and quality control. The awesome support team comes pretty close, but that's not quite it either. What makes the Phantom special is that it is the result of thousands of hours of riding, improving, iterating, and doing it all over again.
When you purchase the Phantom, you are purchasing 18 months of research, development, and testing. You purchase the culmination of everything we've learned in the course of building one of the largest electric scooter companies in North America. At the end of the day, you purchase a scooter built by fellow riders, who poured their lives into this scooter. So, fellow rider, prepare for the ride of a lifetime.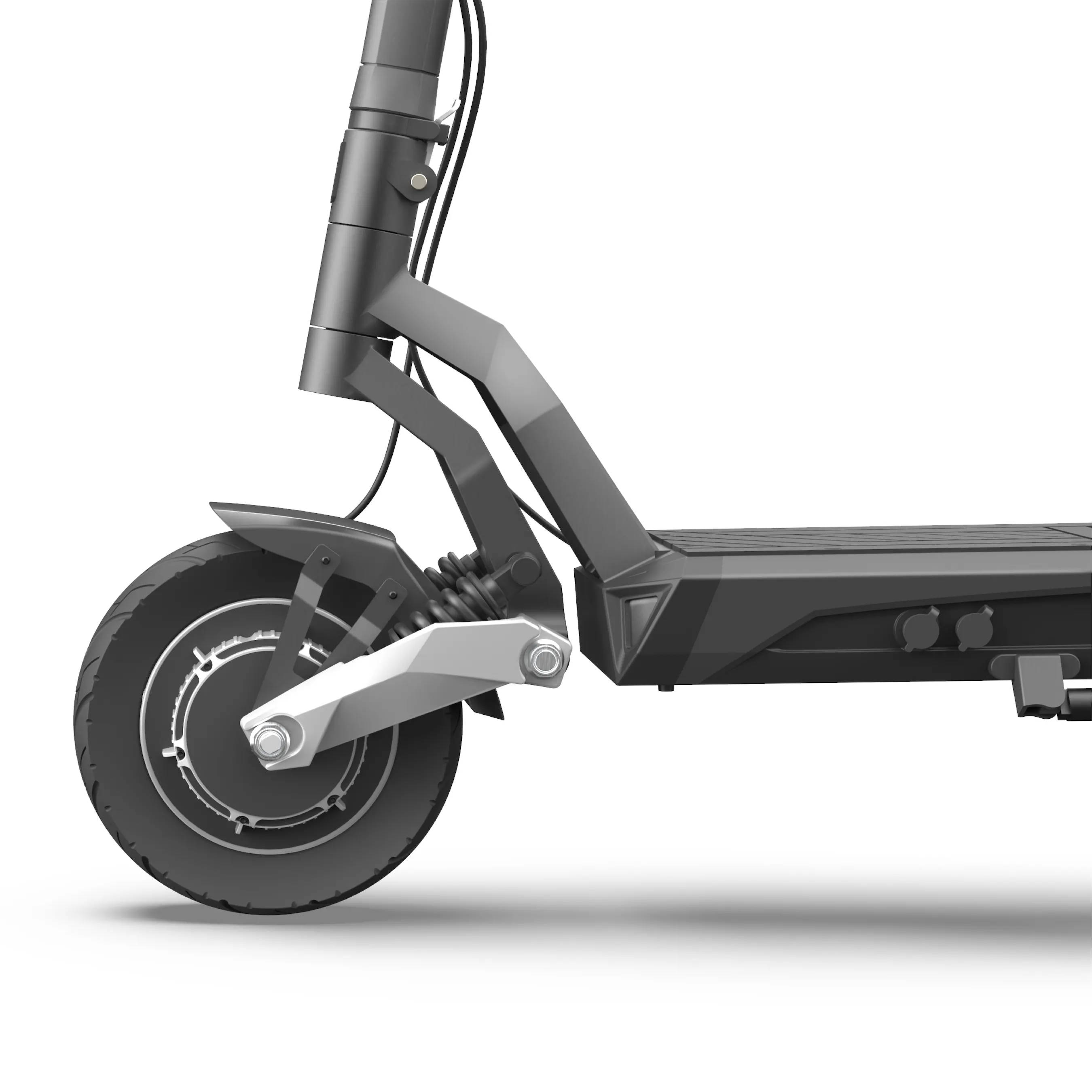 The Apollo Phantom is powered by two high-efficiency brushless motors with nominal output of 1200W each. With a peak output of 1600W, the Phantom has a total of 3200W of maximum instantaneous power. Powered by two 25 amp controllers, the Phantom offers the best acceleration in the Apollo line-up.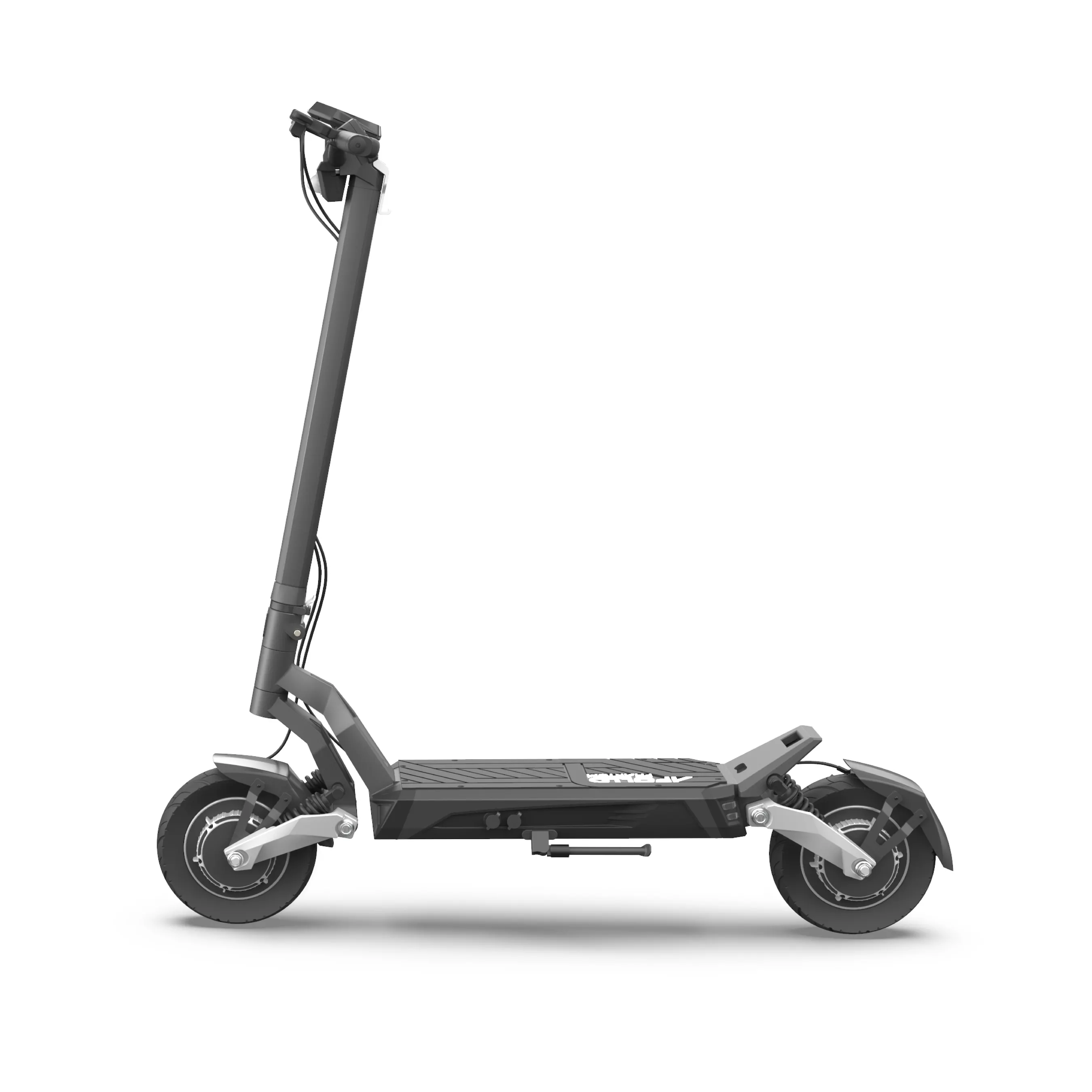 Ridiculously Realistic Range
The Phantom uses Apollo's true-and-tested Dynavolt cells, famously used in electric motorcycles and across other Apollo products. Featuring a 1216 watt hour battery (52V 23.4aH), it offers impressive range in realistic conditions:
Conservative power settings: up to 40 miles (64KM)
Maximum power settings: up to 25 miles (40KM)
It is worth re-emphasizing these are not inflated range specs, but real-world ranges that can be achieved by the average rider.
The Phantom delivers a record 500 charge cycles without compromising performance. How much is that? Charging three times a week on average, the battery pack will maintain full capacity for nearly 3 years.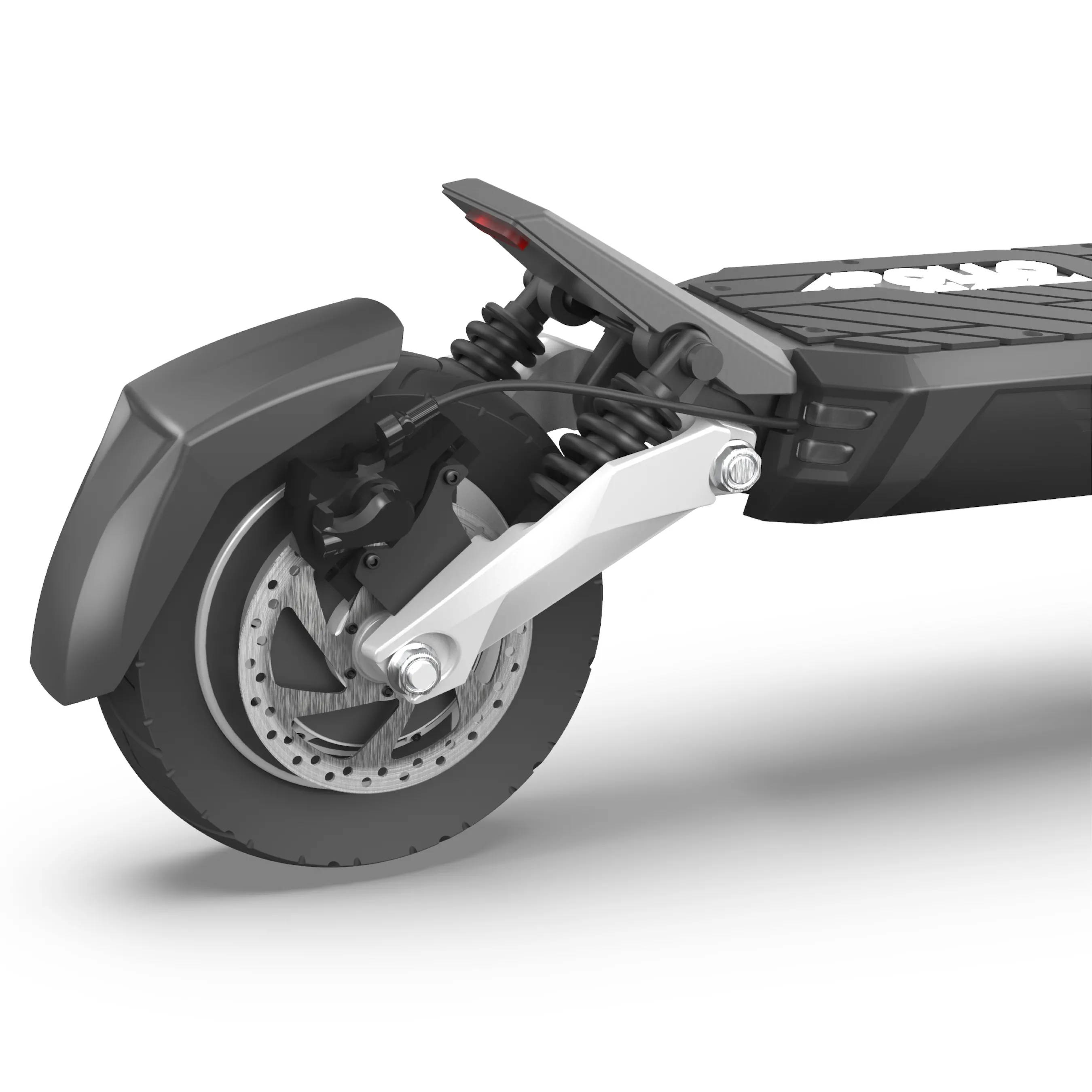 Quadruple Suspension System
The Phantom features a completely proprietary suspension design called the Quadruple Suspension System. Featuring four springs, instead of two, it dramatically improves shock dampening capabilities while offering dynamic travel. The suspension is adjustable with a spanner wrench. The Phantom offers 7 inches of deck clearance, making it a perfect choice for city and trail riding alike.
In addition, the Phantom comes with two ultra-wide hybrid tires for improved grip and control. Measuring 10 inches in height and 3.25 inches in width, the wide tires are the perfect choice for hybrid riding between street and trail. Being pneumatic tires, they offer additional shock-absorption capabilities, further adding comfort to the ride.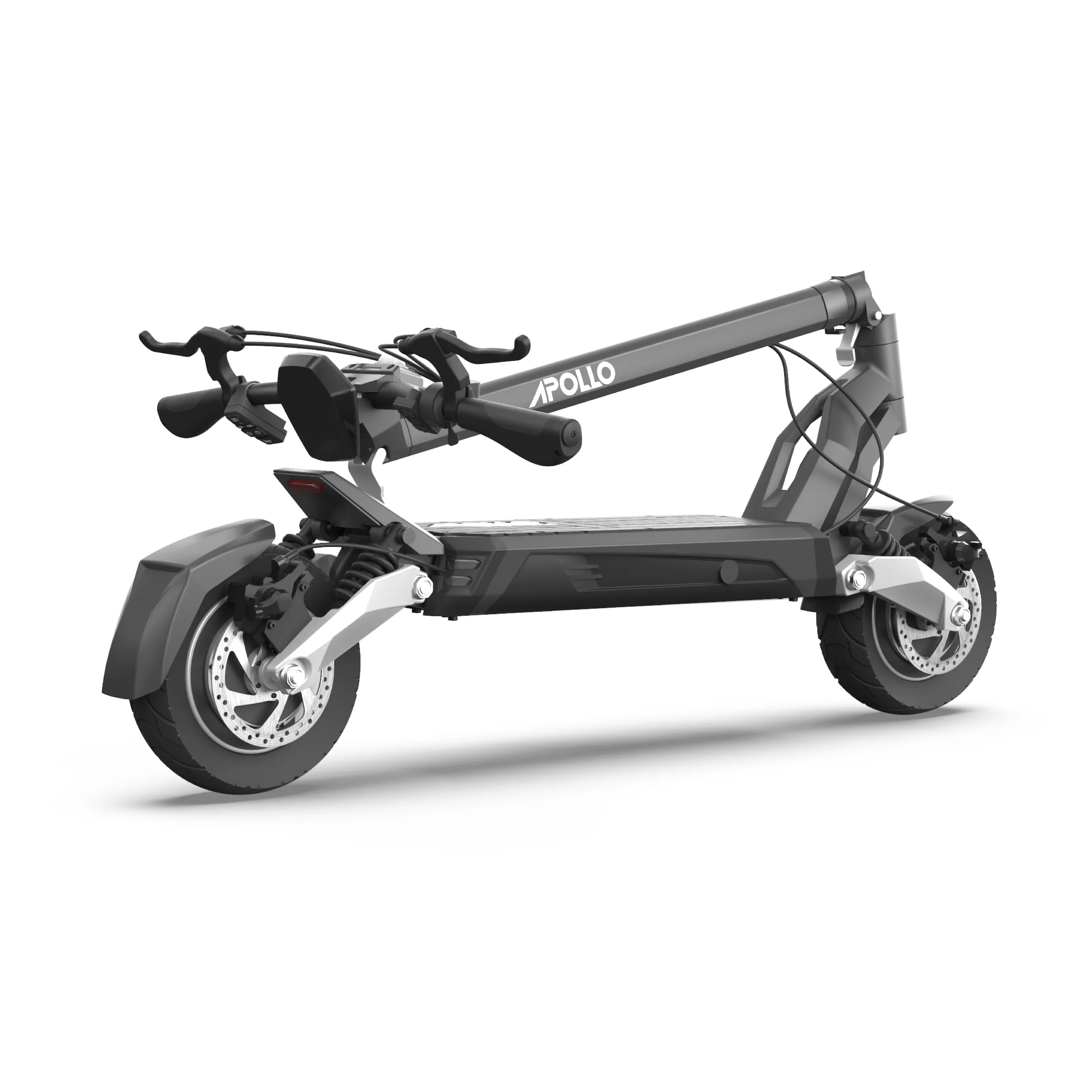 Fits Every Size (of rider)
Weighing 77LB, the Phantom is one of the most refined and compact scooters in its class. Measuring 51 inches in height, 27 inches in width, and 49 inches in length, the Phantom can comfortably accommodate most riders - even the big dawgs.
With a rated max load of 300LB, a deck measuring 8.5 inches by 20 inches in length, plus a dedicated footrest, the Phantom handles steadily and comfortably. The handlebar sits 41 inches above the deck, making it comfortable to ride even for taller riders measuring up to 6 and a half feet.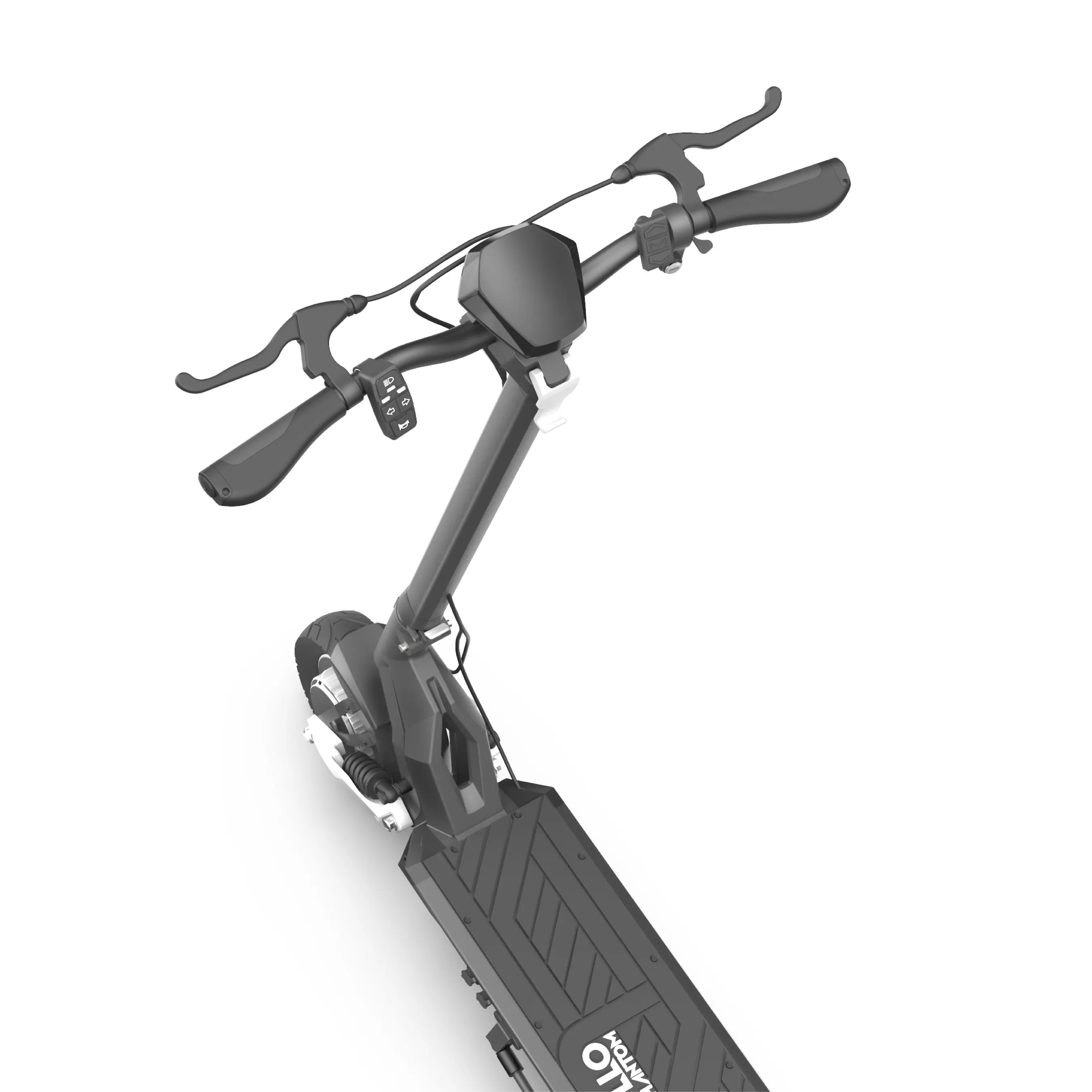 One of the most anticipated features on the Apollo Phantom is the proprietary HEX display. Being the largest electric scooter display on the market, it is packed with features such as a speedometer, range estimator, and riding mode selector. The Phantom is also programmed with 20 adjustable settings to personalize your riding experience.
The command centre also features a thumb throttle, ergonomic
handles, and key-lock ignition. Forget uncomfortable display controls and small sized screens that share little useful information - the Phantom lets you focus on the ride, while keeping you informed and comfortable at the same time.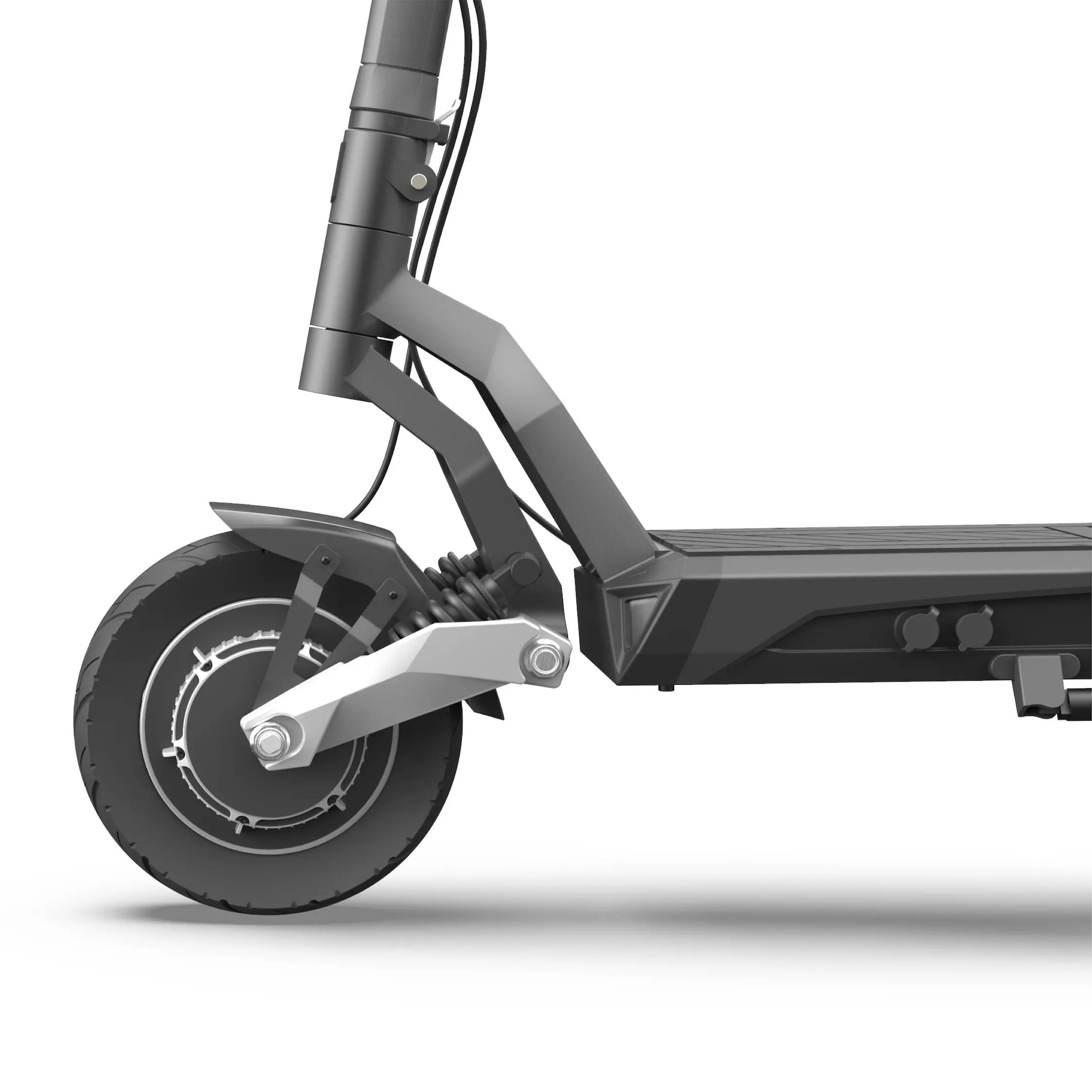 Safety is at the core of everything we do. The Phantom is strong and sturdy in places that matter the most - such as the double reinforced stem and neck. Most impressively, it improves where most electric scooters fall short - the folding mechanism. Featuring our proprietary design, the Phantom does not compromise - the scooter folds in under 3 seconds, while offering 3 independent folding safety mechanisms.
Forget complicated and unreliable folding mechanisms, and welcome to how scooters should be - simple, reliable, and intuitive. The Phantom also features security features such as a key-lock ignition and a designated locking spot in the hollow part of the neck. These small details make a huge difference, when leaving your scooter locked outside during errands.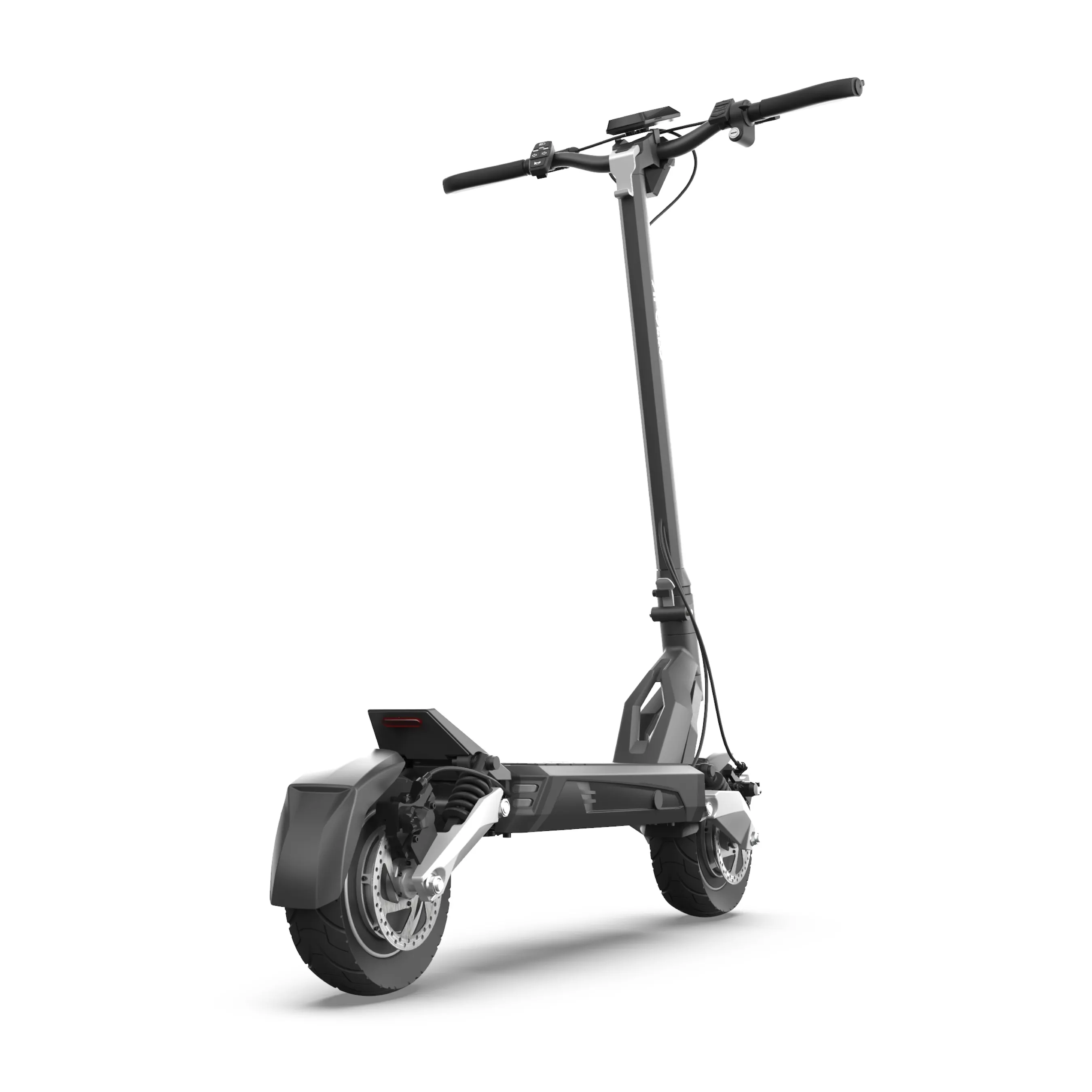 The Phantom comes in two brake configurations: mechanical disc brakes and hydraulic brakes. Both versions utilize 160mm discs, which are 20mm larger than the industry standard. The additional 20mm in disc size delivers best-in-class cooling and handle response, while improving braking performance.
The Phantom also features re-generative braking, activated when brake handles are pressed. This does not only decelerate the scooter while riding, it also re-charges the battery while doing so. A win-win if you ask us.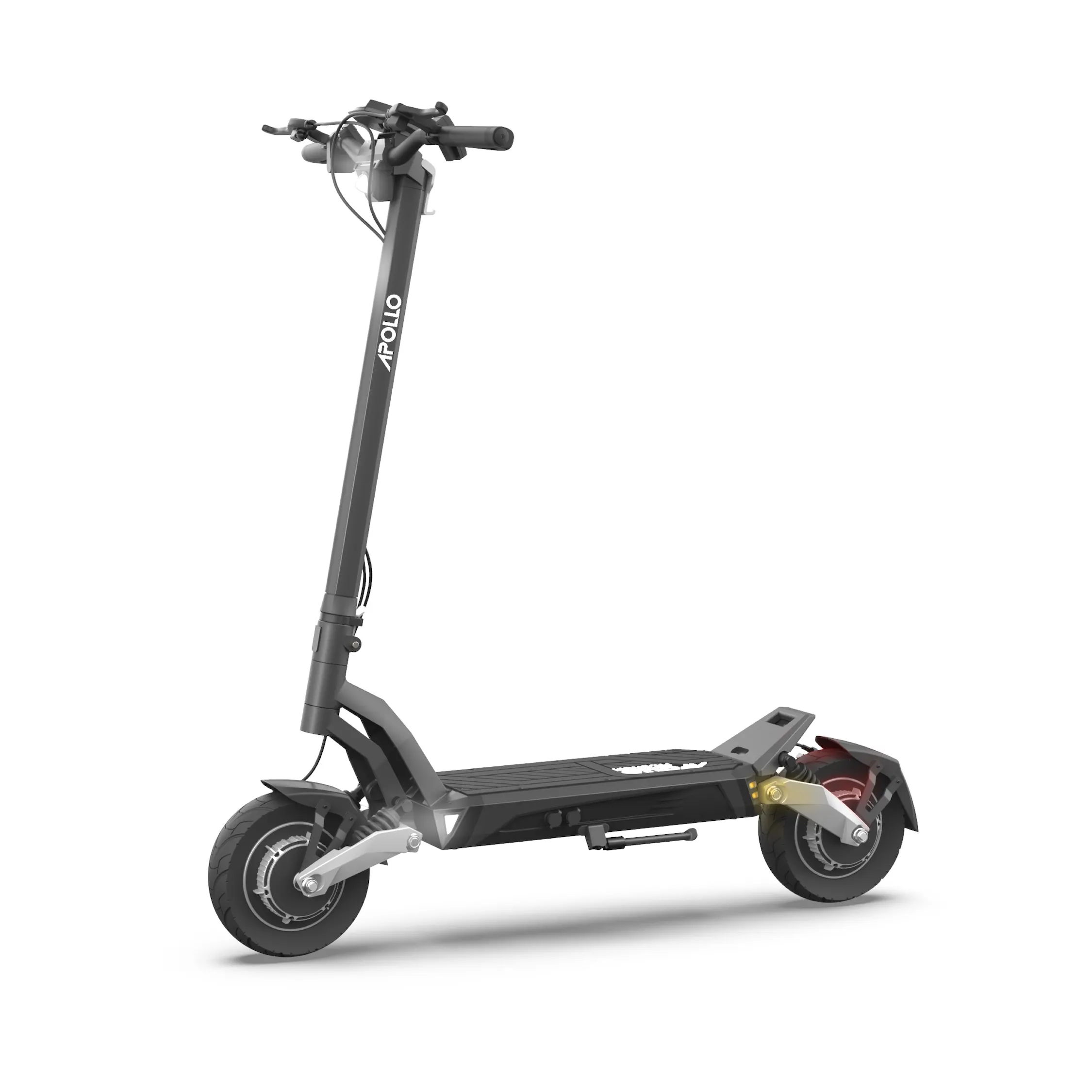 Best Lit High Performance Scooter
See and be seen. When designing the Phantom, Apollo did not compromise on anything - including the lights. Featuring a powerful, 1000-lumen headlight, the Phantom illuminates the road ahead. The two front deck lights ensure the scooter remains visible from a number of angles. The rear of the deck features two visible turn signals controlled from the handlebar, to ensure safety when driving in traffic.
Finally, the rear footrest has a dedicated brake light which flashes when brakes are activated. Safety is critical. The Phantom ensures you remain visible while riding even at night - offering lights for you to see, as well as for you to be seen.
Specifications:
| | |
| --- | --- |
| | |
| | |
| | |
| | |
| | |
| | Dual mechanical or hydraulic with 160mm discs |
| | |
Shipping Policy Disclaimer:
On acceptance of orders, Beyond PEV will make every effort to process within the stated time frame. Unfortunately, sometimes unforeseeable events such as severe weather, crisis, and many others may affect this.
We aim to dispatch the majority of orders the same day, our dispatch & delivery timescales are detailed on specific product pages. Please note that couriers can experience delays or backlogs, Beyond PEV cannot be held liable for such shipping delays.
To ensure the security of purchases, Beyond PEV may need to contact customers to validate orders, which may cause delays. 
We offer free domestic shipping (Within U.K) for Orders over £100.
Countries That We Ship To
We ship within the UK & all countries in the EU. Please note that due to Brexit, Orders being shipped to Europe may be subject to customs duties.
See our full Shipping Policy Here